Passionate about plants? WE DIG PASSIONATE PEOPLE!
Founded 75 years ago, McDonald Garden Center is a family-owned and operated garden center and landscape company. We offer a wide selection of high-quality products and services. This multifaceted business includes two year-round garden centers, seasonal garden markets, and a landscape division. We are looking for dedicated and motivated team members to continue our tradition of excellence.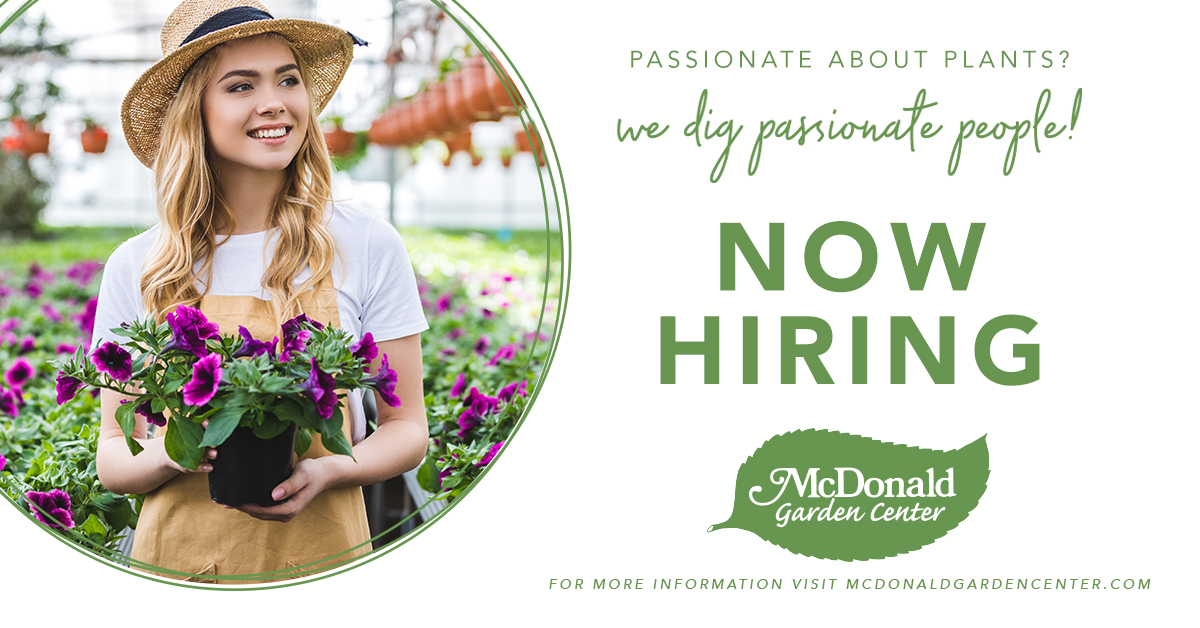 NOW HIRING
McDonald Garden Center has opportunities open for you to grow your career with the passion of your love for plants! We are currently recruiting for the following positions throughout our operations. To be considered for any of these positions, please download and complete our employment application and submit to hr@mcdonaldgardencenter.com.
Receiving and Warehouse Associate- Full Time and Part Time
Working in our warehouse located in Hampton, VA, this position is responsible for the receiving, tagging, shipping and disbursement for display of our plant and garden merchandise. Using various material handling devices, this position will transport, warehouse and provide the proper care and maintenance of our products for sale to our customers.
The ideal candidate must be able to prepare invoices, packing lists for product delivery and submit various reports and product information to stores, garden markets and our corporate office. The ideal candidate should have at least one year's experience with similar responsibilities, preferably in a retail garden center. Should have experience in the operation of a mechanical pallet jack and similar material handling devices. Must be able to lift up to 50 pounds, be dependable and able to work some weekends, as needed.
Installation Crew -Various Locations- Full Time and Part Time
The members of the McDonald Garden Center landscaping team will be responsible for the preparation and installation of landscaping designs selected by our valued customers. The ideal candidate will be skilled in the use of various power and hand tools used in leveling and sloping of lawn and garden topography to ensure the safe and aesthetic design is accomplished. They will also be responsible for the placement, arrangement and planting of various plants, shrubs, trees and lawn ornaments requested by the customer. All transportation is provided to the worksite by the company.
To qualify for this position, you should be able to lift and carry up to 50 pounds. This position is exposed to extreme weather conditions, working predominantly in an outdoor environment.
EQUAL EMPLOYMENT OPPORTUNITY EMPLOYER
McDonald Garden Center is an equal opportunity employer that is committed to diversity and inclusion in the workplace. All aspects of employment including the decision to hire, promote, discipline, or discharge, will be based on merit, competence, performance, and business needs. We prohibit discrimination on the basis of race, color, religion, marital status, age, national origin, ancestry, physical or mental disability, medical condition, pregnancy, genetic information, gender, sexual orientation, gender identity or expression, veteran status, or any other status protected under federal, state, or local law.
Email resumes to hr@mcdonaldgardencenter.com