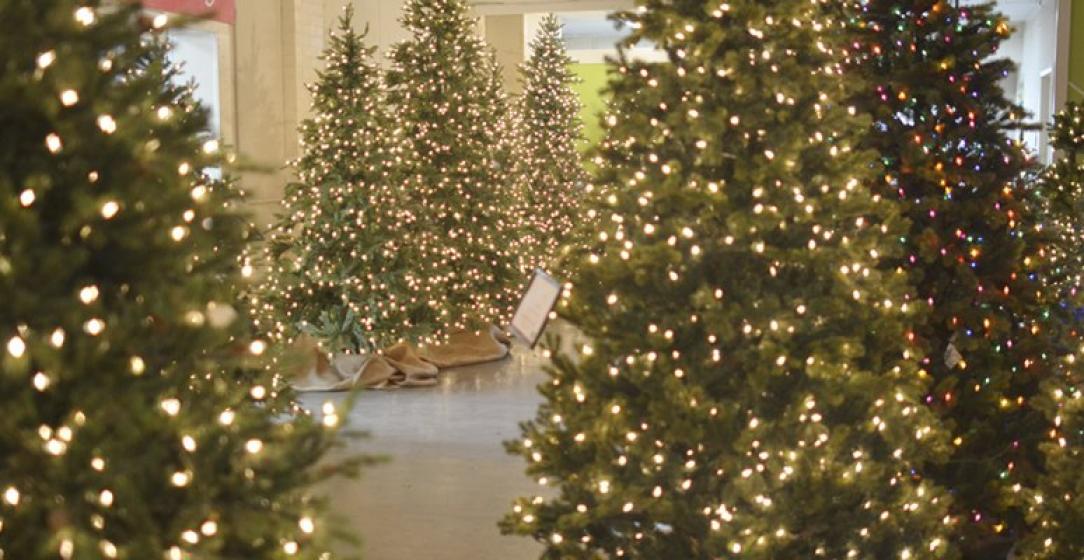 Find the perfect for tree for your holiday decorating this season. The Christmas tree is the centerpiece of holiday decor and we offer a variety of shapes, sizes and colors to find the perfect nature inspired tree. Lasting for seasons to come, these trees will showcase all of your decorative items and make a stunning adddition to your holidays. Come in to see all the varieities, and check out a few of our favorites here.
Hunter Fir– one of our best-sellers.This is a traditional shaped tree with a full, wide look. There are lots of decorating options with this tree. Replicated after a Frasier Fir, its lower branches are angled down, the middle branches are straight out and the top branches face up, giving this tree a realistic look. Branches are decorated with pine cones. Once decorted, the pine cones tend to disappear, but they can be removed.
Kensington Fir – With virtually 100% molded tips, this tree will last a long time. Slightly blue or frosted looking in color, this tree is very full and wide, with a great overall shape . It is amazing when lite at night. With sturdy, stacked branches, this tree is great for larger, heavier ornaments. Very life-like, this tree offers the highest tip count of any other tree, by about 10,000 tips.
Savannah Spruce – A traditional tree with a slimmer line, it is classied as a medium sized tree. It has shorter, fat molded tips, so it looks like new growth on a spruce. With bright green color this tree gives a fresh look to Christmas decor. It is a very full and extremely durable tree.
Flat Rock Spruce – This tree is a stunner. It offers six different types of foliage looks, from molded tips, to traditional branches to bottle brush bristles, in all shapes and sizes. One of the fullest trees in our showroom, this tree gets better with time as it is shaped and reshaped.
Ridgeline Fir – Ridgeline is a slim model tree with very small needles. This tree collection offers a light green color and molded tips. With a nice slim shape, this tree has a great taper from top to bottom so it will not look too columnar. Nice for showing off ornaments with it's in-and out style this tree looks like fir you see growing on the tops of the mountains.
Melville Fir – New this year. This complete line of trees offers a light green new growth look made out of the plastic mold and a nice full to medium shape. This tree shows off ornaments very well and will brighten up any room. Available in a multitude of sizes including a 9 ft multi color tree, this tree is simple in deisgn.