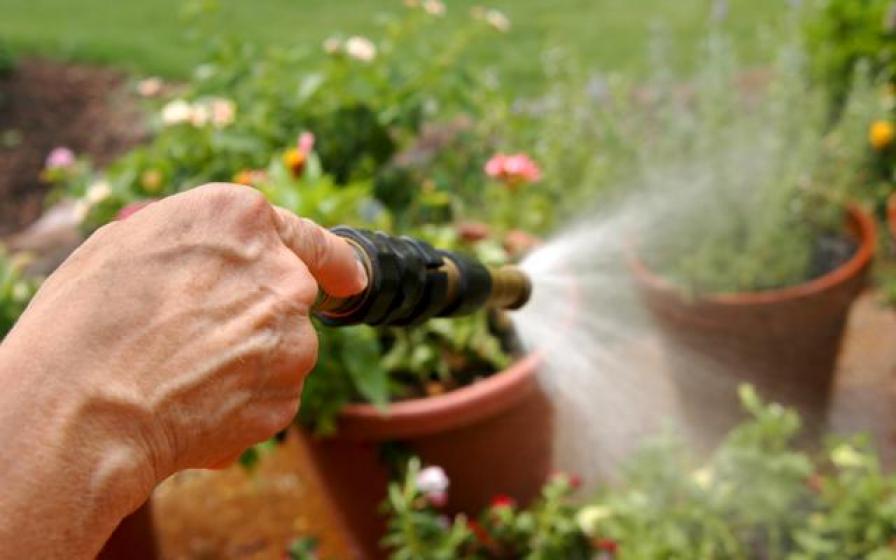 Did you know that 90 percent of every plant is composed of water? This should give you some idea of how important watering your plants really is. Follow these watering guidelines to ensure your plants stay hydrated and healthy all season long:
Lawns
Water between 5:00am-10:00am in order to prevent evaporation which occurs during the hottest part of the day. Morning is better than evening, since dampness encourages growth of fungus.
Water long enough to soak the roots. A light sprinkling evaporates quickly and results in shallow root systems.
Allow an inch of water per week on your lawn.
Adjust your hose to create a gentle rain. Sprinklers that produce a fine mist waste water due to evaporation.
Vegetable and Flower Gardens
Keep soil loose so water can easily penetrate.
Remove weeds to reduce competition for water.
Place the water where you want it and avoid evaporation by using soil-soakers or slow-running hoses, not sprinklers.
Too much water can be just as bad for plants as not enough. Plants that are submerged in water for too long may rot or drown from lack of oxygen.
Trees and Shrubs
Water deeply using a soil-soaker.
Water only when needed. Check the depth of soil dryness. While the surface may be dry, moisture is retained beneath the surface to sustain trees and shrubs.
Mulch to reduce evaporation. Add a 2" to 3" layer of wood chips, pine needles or grass clippings to keep soil cool in summer.
Mulch not only reduces weeds but also adds landscape interest.
Water plants growing in full sun more often than those in shade.
Do not fertilize during the summer. Fertilizing increases a plant's need for water.
Look for these plant clues for signs of over-watering or under-watering:
Signs of Over-Watering
Soil is constantly damp.
Leaves turn yellow or a lighter shade of green.
Young shoots are wilted.
Leaves are brittle but still green.
Algae and mushrooms are growing.
Signs of Under-Watering
Soil is dry.
Older leaves turn yellow or brown, and drop off.
Leaves are wilted or curl.
If your plants and flowers look wilted during the hottest time of the day, it doesn't always mean they need watering. As long as the top of the soil is moist, you probably don't need to water. Wilting is a self-protective mechanism to prevent too much moisture loss from the root area. Wait and see if the plants perk up after the sun goes down.
TIP: Does my container need watering? Do the finger test - Insert your finger down into the soil. If the soil is dry from the tip of your finger to your first knuckle, it's time to water.
Be sure to join the Garden Guru, Mike Westphal, on Wednesday, July 1, 2020, at 11AM, for a Facebook LIVE seminar on WATERING TIPS, TRICKS AND TOOLS.
To go directly to our Facebook page click here.