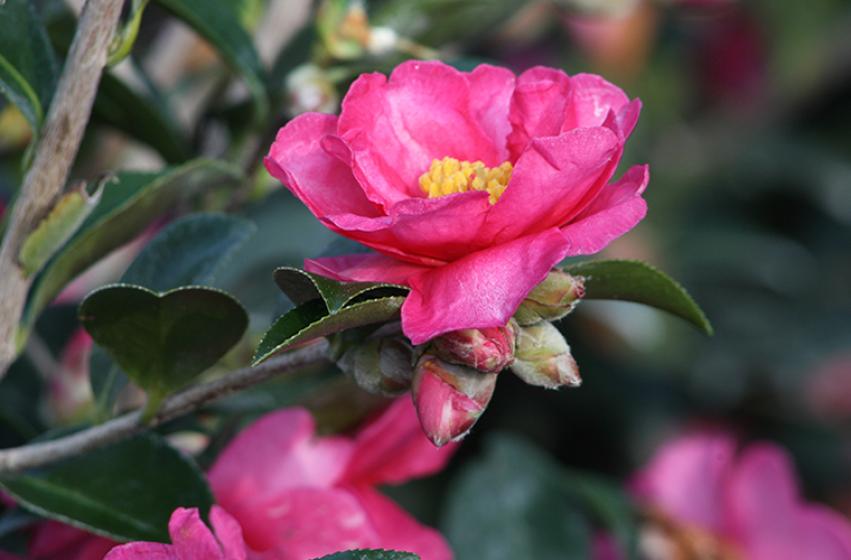 There's a good reason camellias have been a part of the southern landscape for more than 200 years - simply put, they're just amazing.
Native to the Orient, these graceful beauties were introduced into the U.S. near Charleston, South Carolina in 1786. Camellias come in so many varieties, flowering October through March depending on the type you choose. Flowers range in color from pure white to dark red, while some cultivars offer multi-colored or variegated blooms. Flowers can be saucer-shaped single or double blooms and even ruffled like the Peony camellia. For the remainder of the year, their evergreen foliage is an attractive glossy green providing year-round beauty. Most camellias are shrub-sized and compact and can serve several functions in the landscape. Whether they are planted as a hedge line, mixed with other shrubs, planted in a container, or situated as a standalone bush, camellias don't ask for much and yet give so much beauty in return.
Try one of our very favorite camellias, ShiShi Gashira - a versatile performer displaying profuse, hot pink, semi-double blooms with golden yellow stamens in the center and glossy, dark green foliage. Their flowers are perfect for cutting. We love snipping the blooms and simply floating them in a bowl of water around the home. These evergreen shrubs are an ideal choice for a colorful low hedge, espalier or high profile groundcover. ShiShi starts flowering in October and continues through December, yet you'll enjoy it's evergreen foliage all year long. Let's hear it for ShiShi Gashira!
overview: Prefers filtered sun; water regularly when top 3 inches of soil is dry; moderate growing 4-5 feet tall and 6-8 feet wide; blooms fall through winter
Check out more of our favorite plants! OUR PLANTS OF THE WEEK >>
photos from Monrovia