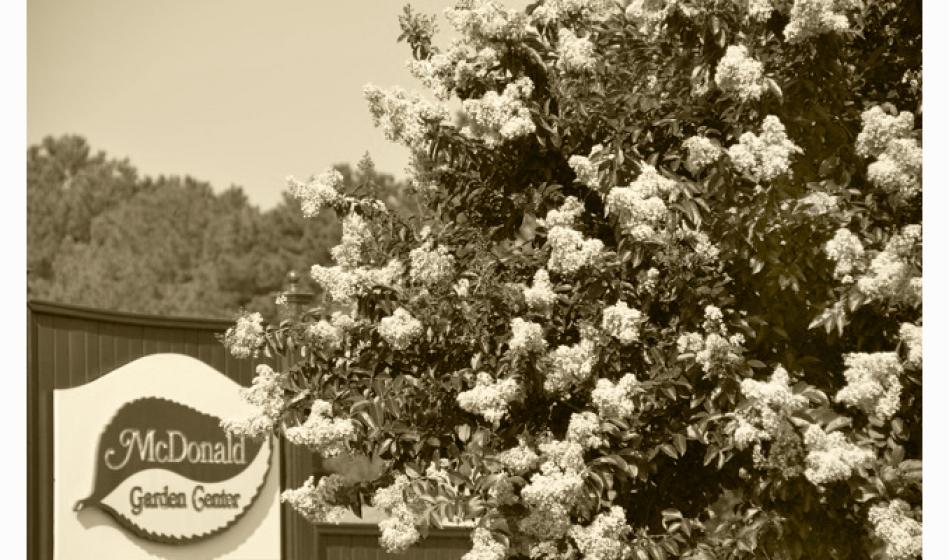 The Crepe Myrtle offers beauty to the southern landscape in all seasons with summer flowers, fall color, winter bark and attractive foliage in spring.
Did you know Crepe Myrtles have been around for more than one thousand years? Now that's a tree that has certainly proven itself.
The Crepe Myrtle's roots actually begin in China, where it was named "Pai Jih Hung," meaning hundred days red for its beautiful color and long bloom season. The Chinese also called it the "monkey tree" because monkeys could not climb the smooth, slippery trunks. This ornamental tree was especially favored by the Tang dynasty between 618 and 906.
With its English name derived from the myrtle-like leaves and crinkled tissue like petals, the Crepe Myrtle has been in cultivation in the United States for more than a century and a half. Some fine old specimens are found in many historic gardens throughout the South. A short list of likely ports suggests that Crepe Myrtles may have entered the country by way of Norfolk.
For twenty-five years or so, the late Dr. Donald Egolf of the National Arboretum worked to cross-breed Crepe Myrtle varieties, which resulted in a number of new hybrids that proved more disease-resistant, hardier, and more vigorous. All have mottled peeling bark, which can be very showy in winter. These hybrids are superior performers, offering better blooming success than the original Crepe Myrtles once did.
Now one of Hampton Roads most popular plants, the Crepe Myrtle is still called "the tree of one hundred days" due to its long flowering period. It's a year round beauty planted in the landscape or in a container. And, best of all it loves the heat and humidity of a Tidewater summer.
It's no surprise that this heat-loving, humidity-thriving, drought tolerant, fast growing plant ranks as one the South's most popular ornamental tree! Be sure to check out the many Crepe Myrtle varieties during our 37th annual Crepe Myrtle Fest, July 19-21. Get the scoop here >>