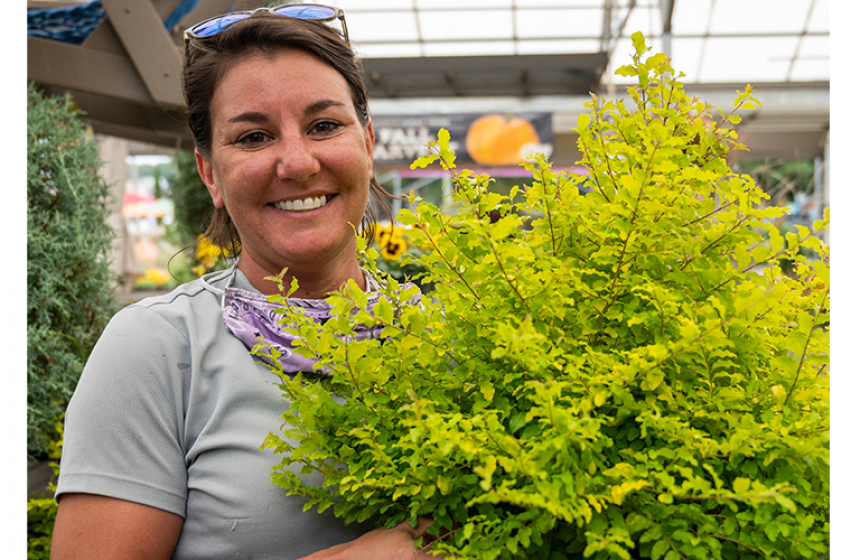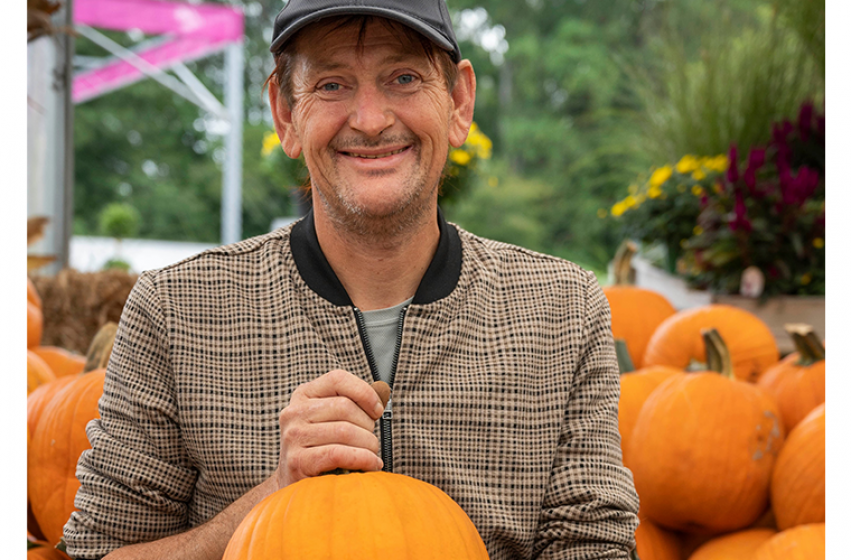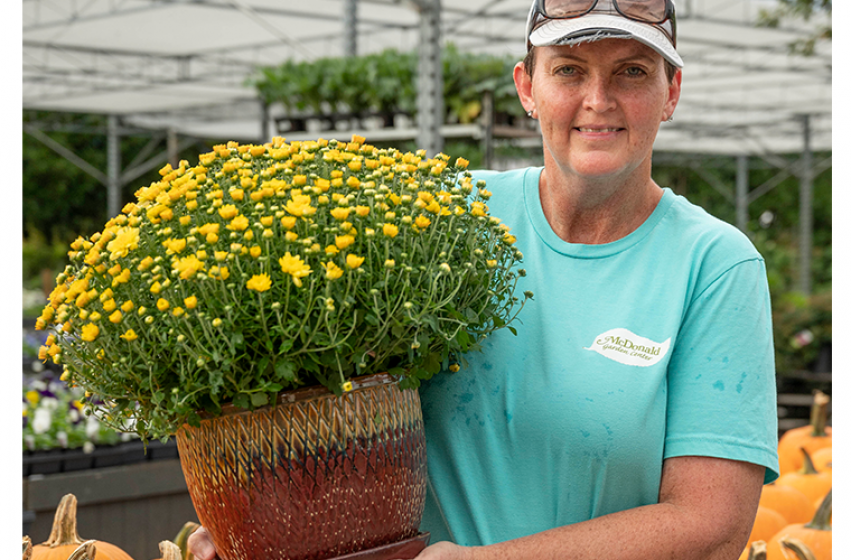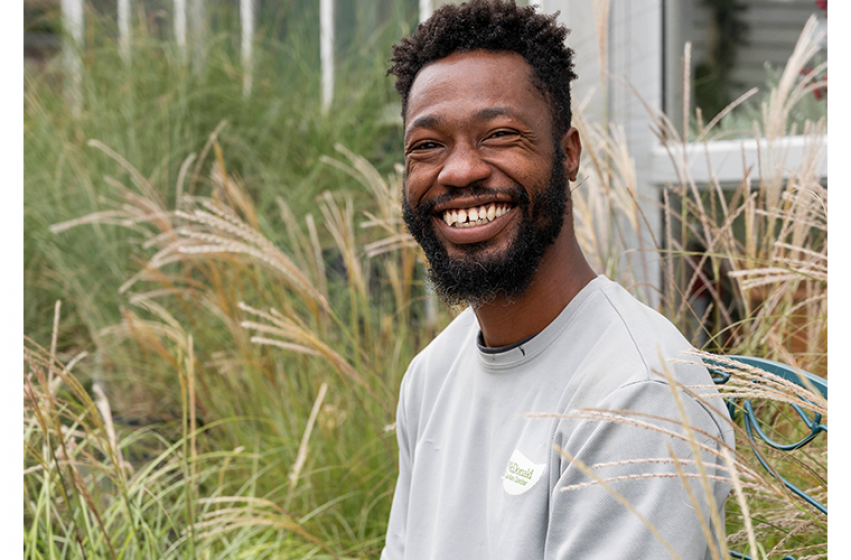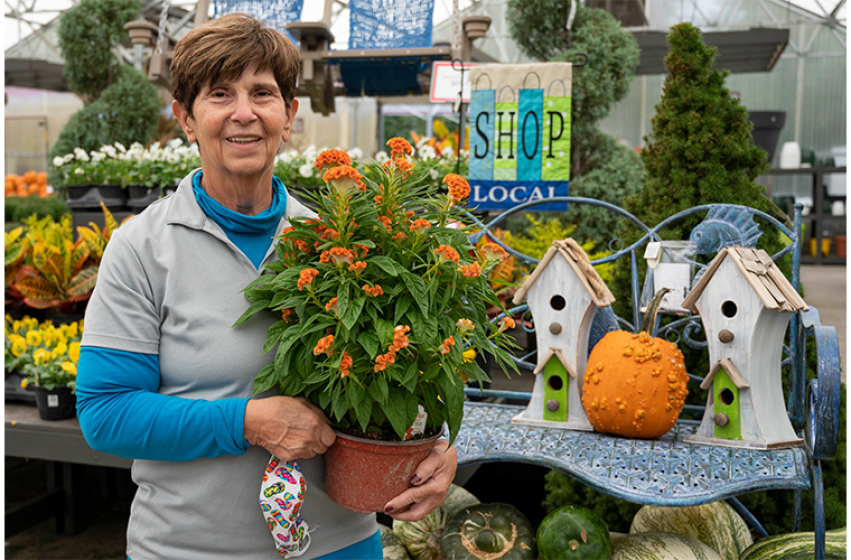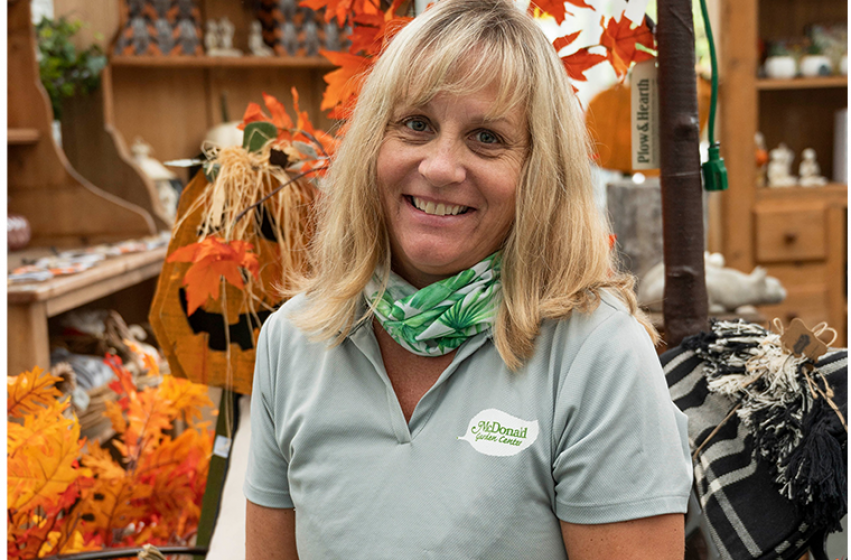 Like many of you, our staff here at McDonald Garden Center loves to garden, so we've reached out to our Green Team members at both our Independence and Great Neck locations and asked them to pick their fall favs to share with you. From gorgeous annuals and perennials to unique houseplants to gardening gadgets and more, our staff is excited to share some of their top picks. You're sure to discover a new favorite too!
Meghan + Sunshine Ligustrum
Meghan, our Great Neck Green Goods Lead, has selected the beautiful and versatile sunshine ligustrum as her fall favorite! Meghan explains, "It's golden/mellow yellow foliage makes any landscape or container pop! It can handle full sun or partial shade. It's an upright, fast-growing evergreen shrub that is drought and heat tolerant as well as deer-resistant. Fully grown, this shrub reaches 6 feet tall by 3 to 4 feet wide-which makes it perfect for a container or foundation shrub in your landscape." Meghan is experienced in a number of departments and has worked at both of our year-round locations. Come visit her at Great Neck and pick her brain for help on all your landscape projects!
Steve + Pumpkins
I think a lot of us have Steve's fall favorite -PUMPKINS!- at the top of our list too. Our Great Neck Green Team member says, "Nothing says fall better than pumpkins! Carving pumpkins are a fall staple. Carved or not, they are perfect for setting a fall mood. "We have all types- carving, mini, pie, white, etc. at both year-round locations. We also have a great selection of unique varieties that will make your front porch or patio "pumpkin" to talk about!
Rachel + Indoor Pottery
If you're looking to update your decor for fall, make sure to talk to our Deco Manager, Rachel, at our Independence location! She's one of the creative minds behind our beautiful displays around the garden center (including some those beautiful trees at Christmas!) Her pick for this week is indoor pottery- and Rachel explains, "Decorating indoors doesn't just mean cute figurines and other décor items. I like to pair my plants with some fall inspired pottery to give my home a beautiful autumn feel." Thanks for the tip, Rach!
JT + Ornamental Grasses
Often a man behind-the-scenes in receiving, JT is one of the valued members of our Independence Green Team, whose bright smile lights up the greenhouse. His pick this week is ornamental grasses, and JT explains, "Ornamental grasses are great! Not only do they look amazing, but also add height and texture. I like to walk through them and admire their texture visually and by touch."
Joann + Celosia (twisted orange)
Great Neck Green Team member Joann has selected something extra special for her pick of the week- Celosia Twisted Orange! She says, "This is one of my favorite plants because of the flowers. They remind me of lace. I like the fact that I can cut flowers after the season and dry them for arrangements." What an awesome idea, Joann!
Andrea + Fall Decor
Andrea, our deco and patio buyer, has been at McDonald Garden Center for over 20 years. In that time, she not only has fine-tuned her ability to highlight trends, but also to find decor items that can fit seamlessly into any style. Her pick this week is fall decor as she explains, "Fall is my favorite season, so decorating this time of year is so much fun." Visit both locations to see what Andrea has picked out this season!
Nikki + Mums
When you think fall plants, one often thinks- MUMS! They are the quintessential fall porch must-have - with blooms that keep on giving. Our Perennials Manager, Nikki, picked mums has her fall favorite, saying, "Mums add a beautiful splash of fall color to any setting." And if you've seen Nikki's breathtaking displays in the perennials yard, you know this lady knows what she's talking about!
Stephanie + Phalaenopsis Orchid
McDonald Garden Center has one of the most extensive and impressive collection of orchids in Hampton Roads- as our founder, Eddie Anderson, has always been an aficionado of this unique plant variety. So, it is easy to see why our Great Neck houseplant lead, Stephanie, chose them as her fall favorite. She says, "Phalaenopsis Orchid is also known as a Moth Orchid- and are one of the easiest to grow. You can water your orchid by running room temperature water through it or soak it in water briefly. They are lower light orchids that require bright indirect sunlight and will love sitting in an east facing window. Phalaenopsis Orchids tend to bloom annually in winter or spring, but each bloom can be open for months. They do require orchid specific fertilizer and must get enough light to rebloom." Truly living pieces of art!
Jimmy + Celosia
Longtime Green Team Member, Garden Market Manager, and Virginia Tech Horticultural grad, Jimmy is one of our shining stars at McDonald Garden Center. That being said, it was like Jimmy to have tremendous insight into his fall pick- celosia. He explains, "Celosia Intenz is a summer annual that continues to shine into the fall when others are tired or fading. Best planted in full sun to partial shade, the purple flower spikes on this celosia can reach up to 24" tall and will last right up until a freeze or hard frost. As the days get shorter and the nights get cooler, the purple color deepens and intensifies for an outstanding fall show! Pairs well with yellow mums or pansies, ornamental grasses, or mixed in a sunny border." Thanks, Jimmy!
Sandra + Crotons
If you're looking for something with fall colors but can also be part of your indoor decor year-round, then you want to hear about Great Neck Green Team Member Sandra's pick- crotons! She says, "Crotons are a fun tropical plant with bold fall colors. It's a versatile plant that is amazing for indoors during the cooler months and outdoors when it's warmer. Plus, the more sun it gets, the brighter and bolder the colors are!
Steve + Bright Lights Swiss Chard
You may have seen Steve Bowles, Lead Sales Associate in Garden Supply, giving one of his seminars at our Great Neck location. Whether it's on Lawn Care or Moles & Voles (or as we like to say, "Bowles" & Voles), Steve always gives our customers the information they need to be successful. His pick for fall is bright lights swiss chard- and Steve explains why as he says, "I enjoy growing vegetables from seed. Fall is a great time to grow vegetables. The cooler weather means fewer bugs and swiss chard is easy to grow all season long and will even last through a mild winter. They also taste amazing!"
Michelle + Pansies
We couldn't let this week go by without mentioning superstar fall/winter flower- the PANSY! And speaking of superstars, our rockstar Annuals Manager at our Independence location, Michelle, selected pansies off the list for her top pick right away. Anytime you visit our annuals yard and notice the beautiful, healthy, and exceptional quality of our plants- this fantastic woman is the cause! When asked for her fall fav, Michelle said, "This is a difficult one for me because I love them all but, I would have to choose pansies. My first fall working at the garden center I couldn't understand our customers' obsession with this plant. My husband and I moved here from the north and pansies are a fall plant and only fall. But the pansy here is a fall AND winter plant. On a dark, dreary, cold day to be able to look out the window and see such amazing color- it just brightens my day and doesn't fail to make me smile. So, after living here for 5 years, I have come to know that obsession and the decision of picking the right color." Thanks, Michelle!
Candy + Michele Design's Soaps
Candy, a Green Team member for over 20 years, knows a little something (ok- a LOT something) about what gift/decor items McDonald Garden Center offers that are extra special. Not only is she one of our most requested patio and deco specialists, she has a gift for creating amazing visual displays that intrigue and inspire. In a time where we all need to treat ourselves, Candy explains why our special Michele Design's Soaps should be on your "must-have" list- "Michele Designs, foaming soap and air freshener in Sweet Pumpkin and Fall Symphony both smell like fall and keep your hands clean and sanitary. The freshener makes your space smell like the season."
Wayne + Ornamental Pepper
From our Great Neck location, Wayne, chose ornamental peppers and says, "There's so many different varieties that add a pop of color for fall."
Click here to see even more reasons why we love fall.