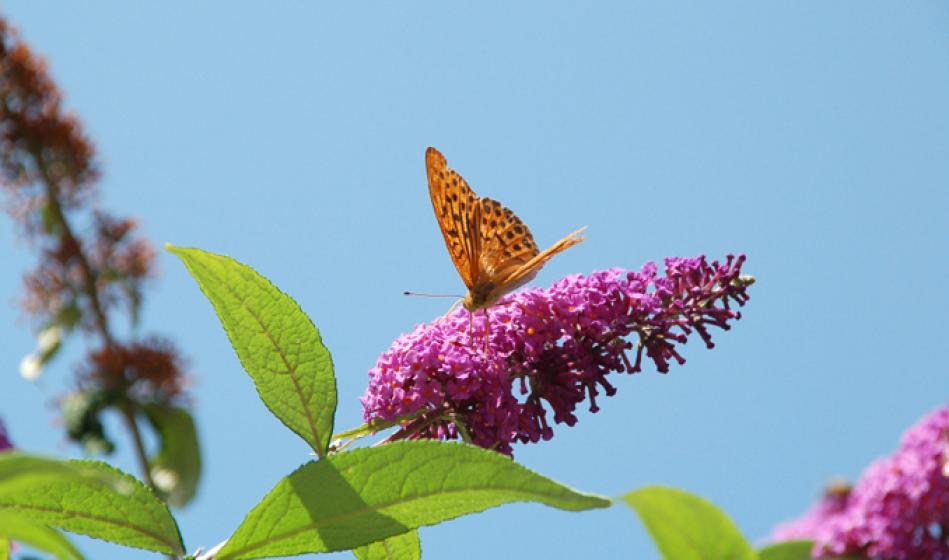 BUTTERFLY BUSH
Butterflies are some of the most beautiful and fascinating creatures on Earth, and nothing adds to the beauty of a flowering garden than butterflies fluttering about it on a warm summer day. Butterfly bushes are carefree deciduous shrubs that are colorful, fragrant, and easy to grow. We've provided a few butterfly bush varieties that will entice these beautiful creatures to your yard and offer bold color all through the summer.
Blue Heaven - compact, mounding shrub with silvery foliage and showy pinnacles of blue flower spikes and orange eyes at branch ends. Blooms from early summer to frost. Great for borders, embankments, mass plantings, and containers. Prune in late winter. Drought tolerant. Attracts hummingbirds and butterflies. Plant in full sun.
Black Knight - bold, deep purple-blue, almost back, flower spikes with a sweet smelling fragrance that attracts butterflies and hummingbirds alike. This fast grower blooms mid-summer through fall. Perfect for a background or accent plant. Easy to grow in fertile, well-drained soil. Prune back or cut to the ground in late winter or early spring. Plant in full sun.
Blue Chip - eye-catching dark green foliage with spikes of fragrant blue to lavender blooms. Perfect for smaller gardens and mixed borders. Blooms from early summer to mid fall. Attracts butterflies and hummingbirds. Plant in partial to full sun.
Harlequin - arching stems dressed in variegated green leaves trimmed in cream. Purple-red, fragrant flowers bloom mid summer to early autumn. Ideal as background or accent plant or as a cut flower. Remove spent flower spikes to promote blooming. Prune back in late winter to maintain shape and encourage growth and flowering next season. Plant in full sun in well drained soil.
Evil Ways - bright yellow foliage and dark purple flower spikes that bloom June through September. Best grown in borders, cottage gardens, or butterfly gardens. Also popular as cut flower. Remove spent flower spikes during the growing season to encourage additional bloom. Prefers medium, well-drained soil and a full sun location.
Ice Chip - white flowers with silver-ish foliage that blooms from June through frost. A good groundcover for mass plantings; perennial gardens; mixed borders. A great thriller in container combinations.
Lilac Chip - Soft, lavender-pink fragrant flowers provide color from summer until frost, without deadheading! Fragrant bloom spikes attract butterflies. Perfect for mass planting, perennial gardens and mixed borders. This deer resistant shrub is deciduous with a dwarf, slightly spreading habit.
Miss Molly - rich Sangria-red color. This compact plant is smaller than many other buddleia varieties, and its distinctive flower color makes late summer gardens pop! The red summer flowers attract butterflies and hummingbirds. It is Fragrant and deer resistant.
Miss Ruby - remarkably vivid, rich pink blooms. The distinctive magenta flowers are more vibrant than that of any other buddleia variety. Brilliant rich pink summer blooms unlike any other variety. Attracts butterflies and hummingbirds. Fragrant and deer resistant.
Purple Haze - an abundance of dark purple-blue flowers produced on unique horizontal branches. The flowers radiate outward and downward like a pinwheel, and are continuous from mid summer to frost. Fragrant purple-blue flowers from mid-summer to frost. Attractive to butterflies and hummingbirds, but not to deer.
Royal Red - spectacular summer color from conical clusters of rich, purple-red flowers. Terrific fragrance attracts butterflies. Good background or accent plant for the fragrance garden.