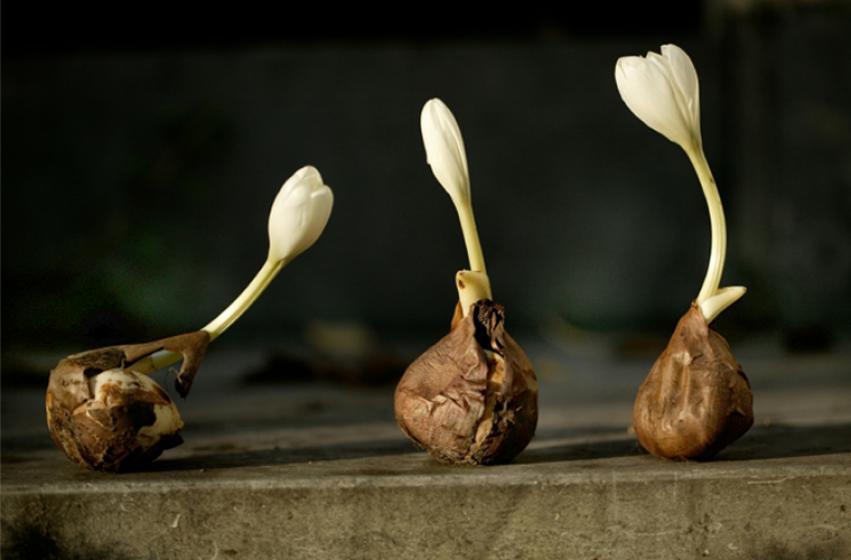 by Kathy Van Mullekom, a lifelong gardener and gardening writer living in York County, Virginia
Bulbs are too often afterthoughts in the garden. It's wrong thinking, something I've been guilty of, too. For years, I ignored bulbs. Then, I became the energized owner of a woodsy garden where I envisioned a river of daffodils blooming in early spring. Over the course of several falls, hubby Ken and I dug holes and planted thousands of spring-flowering daffodils.
Digging planting holes around huge tree roots is a challenge, but Ken did it with good humor. I had him create holes large enough to hold about 25 bulbs each and made him promise not to ever tell anyone how I planted bulbs. Why? I literally threw them in, leaving them upside down, sideways and right side up. He laughed and kept digging. Miraculously, each spring, the daffodils emerged, leafed out and bloomed beautifully – because bulbs are smart and instinctively know to right themselves.
October is a perfect planting timeframe for spring-flowering bulbs – daffodils, tulips, hyacinths and crocus. Daffodils and crocus like open spaces of full sun but also fare fine under tall deciduous trees where the bulbs soak up the sun they need before trees leaf out. Tulips are best in pots and gardens with all-day sun.
Bulbs need rich, organic soil that drains well. They need consistent moderate moisture but dislike soggy soil. Once your bulbs finishing flowering, allow the foliage to yellow and die back, because the photosynthesis process nourishes the bulbs for next year's flowers. Once your spring-flowering bulbs are in the ground, plan for more year-round color with summer and fall-flowering bulbs. Like me, you'll soon realize bulbs play starring roles in a garden's beauty.