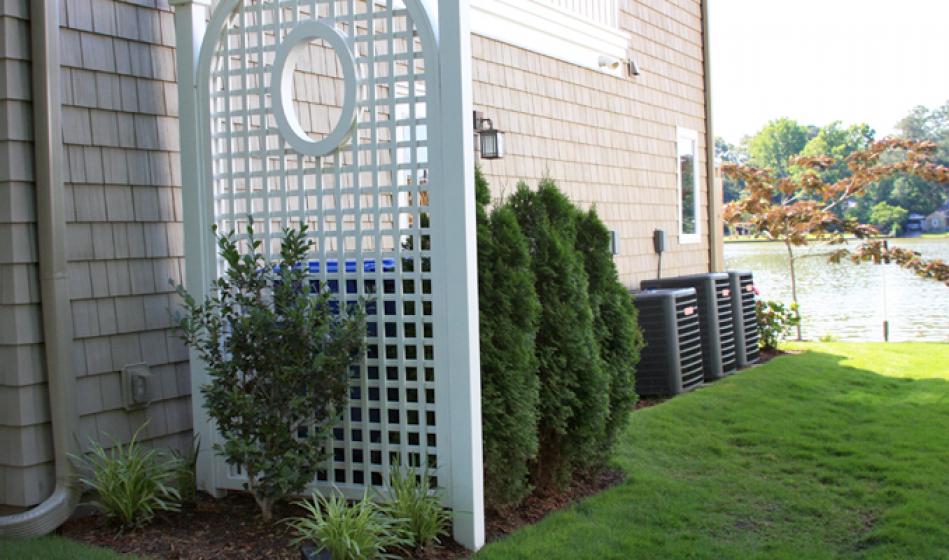 Trash cans, air conditioners, chain-link fences, sometimes even your neighbor's house -- these are just a few of the things that can interfere with the beauty of your landscape. But these eyesores don't have to be the focal point. Check out these ideas on how you can use plants and garden structures to magically make these blemishes disappear:
Trees & Shrubs – Both trees and shrubs are versatile and can be used as a natural screen to block out unsightly distractions and even noise. Trees can grow from 10 to over 50 feet tall making them the perfect choice to hide a neighbor's house, shed or nearby buildings. Shrubs are useful for lower vantage points and can grow up to 8 feet tall. Place them in front of or around heating and cooling units, swimming pool mechanicals, utility meters, and trash cans. We recommend Chindo Viburnum, Cleyera, Ligustrum, and Bayberry (Wax Myrtle).
Trellis with Climbing Vines – A garden trellis laced with perennial climbing vines with large foliage and beautiful blooming flowers can create a privacy screen that can block out most landscape eyesores while infusing a pop of color to an otherwise ordinary space. Most perennial vines need little in the way of care other than water and pruning to ensure they grow strong and come back every year. We recommend Madison Jasmine, Clematis, Climbing Hydrangea, Wisteria, and Sweet Pea.
Lattice or Fencing – Construct a simple space for your garbage can by arranging two tall pieces of wooden lattice or fencing at right angles against your house or garage. Be sure to leave an area open in the back so you can easily roll the trash can in and out. And, of course add some flair by planting Ivy, Clematis, Sweet Pea, Honeysuckle, Climbing Roses or other vines and train them to climb up the lattice.