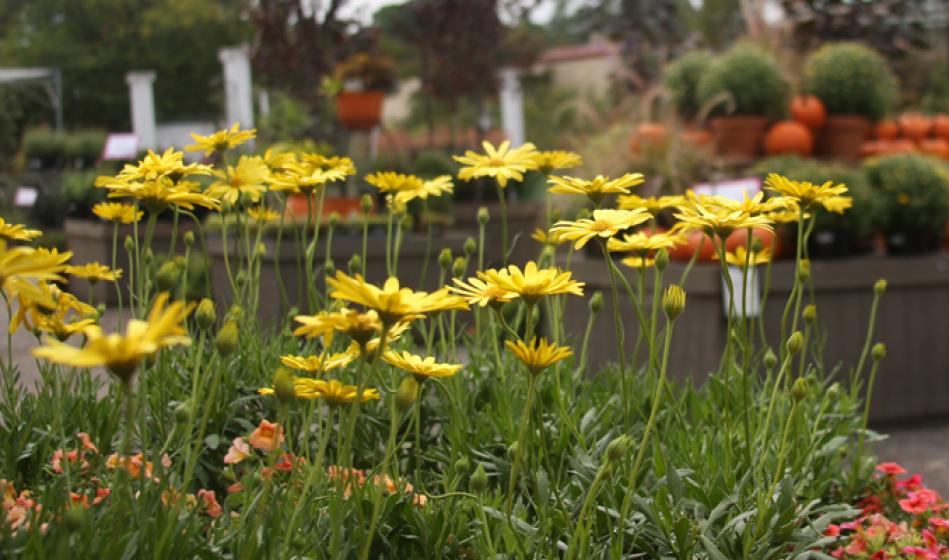 As nights become cooler and days get shorter, it's time to plant your fall garden ~ but are you stuck in a rut? Maybe it's time to explore some other plants to compliment the traditional fall favorites. It's easy to create a one-of-a-kind fall garden. Mixing several different plant varieties will give your landscape a unique look and make visitors look twice. So this fall, try incorporating some out-of-the-box plants along with those beautiful mums & asters we all know and love!
Bush Daisies - These bright annual flowers make a marvelous addition to any garden that has a well-drained, full sun situation. This is a plant that provides sunny, yellow daisy-like flower color against a mat of appealing finely cut green or grey-green foliage spring all through fall.
Heuchera - These perennial plants are one of our favorites for all seasons, including fall. From woodlands and rock gardens to containers, borders, and groundcovers, Heucheras make quite the statement.The stunning foliage of these fast-growing, deer- and pest-resistant perennials is so multi-colored they'll stand out in any crowd. A wide selection of varieties is available with large, heart-shaped or rounded leaves, the striking colors and variegation patterns.
Plectranthus - A quick-growing, perennial that grows 24 to 30 inches tall and does well in either shady or partially sunny locations. Those grown in sun are more compact and the purple color on the undersides of the leaves is much more intense. Spikes of dark lavender flowers bloom from spring until fall.
Autumn Sage (Salvia) - Add these stunning perennials with spikes of purple or red tubular blooms to your landscape. Enjoy them from spring through fall! They prefer full to part sunny spots.
Kaleidoscope Abelia - You'll love this evergreen shrub all year, especially during autumn. It displays bright, golden yellow variegation on medium green leaves along with brilliant red stems create a striking kaleidoscope of color. A low, compact selection for patio containers or massing as a groundcover.
Encore Azaleas - Another wonderful shrub for the fall landscape. If you love the colorful flowers that an azalea shrub offers, then you'll love our Encore varieties. They bloom three times per year ~ summer, spring, and fall, yes, even fall!
Sedum - Attractive, clumping perennial that displays large, plate-like flower clusters that start pink then turn to a rosy russet. It's succulent, solid-looking leaves give it a substantial presence in the garden. A fine addition to the rock garden or mixed border, where its flower heads will remain attractive well into autumn.