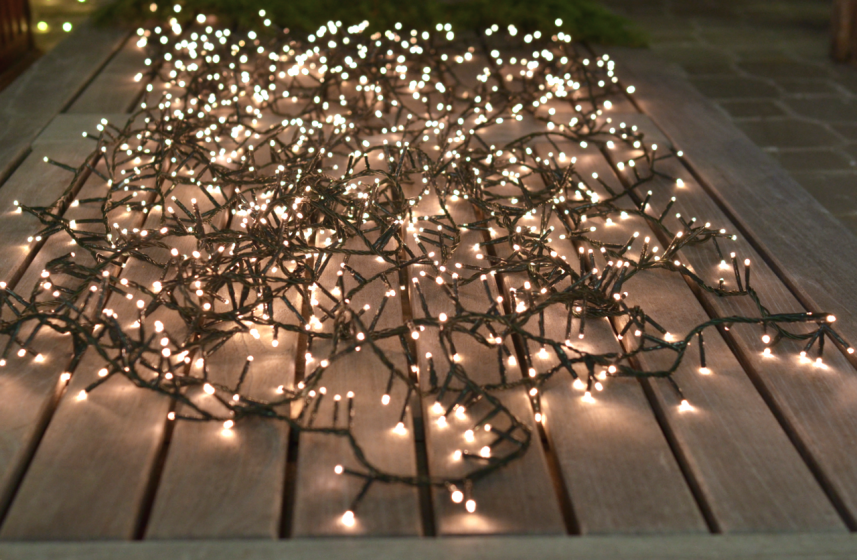 Trying to light up your holiday season? We have the best selection of unique lights that make it easy to light up your indoor or outdoor spaces.
Lumineo Compact Lights
Lumineo Compact Lights are one of the easiest ways to brighten up your holidays. These LED string lights have 500 or 1000 lights per strand, but that is just the beginning. They have 8 functions from steady-on to an array of twinkle and fading functions. They can be used indoors or outdoors. Compact Lights won't tangle (no more struggling to get your lights ready to use) and with one inch spacing between each light, you get more bang for your buck. They are virtually unbreakable (check our our video where we walk on them!) and they burn for a minimum of 50,000 hours. That is almost 6 years of constant burn (or over 22 years of a 3 month burn). They come in warm white, cool white, classic warm white, and multi and never heat up to the touch. Since they are LED they use 70% less electricity, compared to standard light strings. The 1000 light strand is 74 ft in length, and the 500 light strands are 36 ft long.
The possibilities are endless with the compact lights. Imagine being able to put up a 1000 lights in no time. Decorating with light has never been so easy. You can use one to two sets on a fresh cut Christmas tree. Use them on a mantle, banister or table for max impact. Add them to garland for indoor or outdoor use. Go big with lights in your landscape by using them on trees, shrubs, topiaries or lay them on the ground in the landscape. And the best part is next year when you go to pull them out, they won't tangle! No more dreading pulling your lights out every year. Brighten up your holidays with Lumineo Compact Lights.
Lumineo Durawise Battery Operated Lights
From the same people who make the compact lights, these lights give you the possibility of lighting up anything when power cords cant be used or you have no access to power. They come in either 48 or 96 light counts, and can be used indoors or outdoors. Durawsie battery operated lights run on three AA batteries and will last up to 30 days on one set. With a built-in timer that stays on for 6 hours and turns off for 18, all you do it set it and forget it. These too have 8 functions, won't tangle, are unbreakable and will burn for a minimum of 50,000 hours. They come in cool white, warm white and multi but are also available in black or transparent wire.
Use Durawsie Light sets for mailboxes, lamp posts, railings, garland, wreaths, topiaries, trellises, mantles, tabletops and so much more. The black wire disappears into wreaths and garlands or any outdoor use, and the transparent wire adds a little shimmer to your mantle or tabletop décor. Fill up a lantern or glass vase with them; use them on small trees, or to brighten up your planters and container gardens.