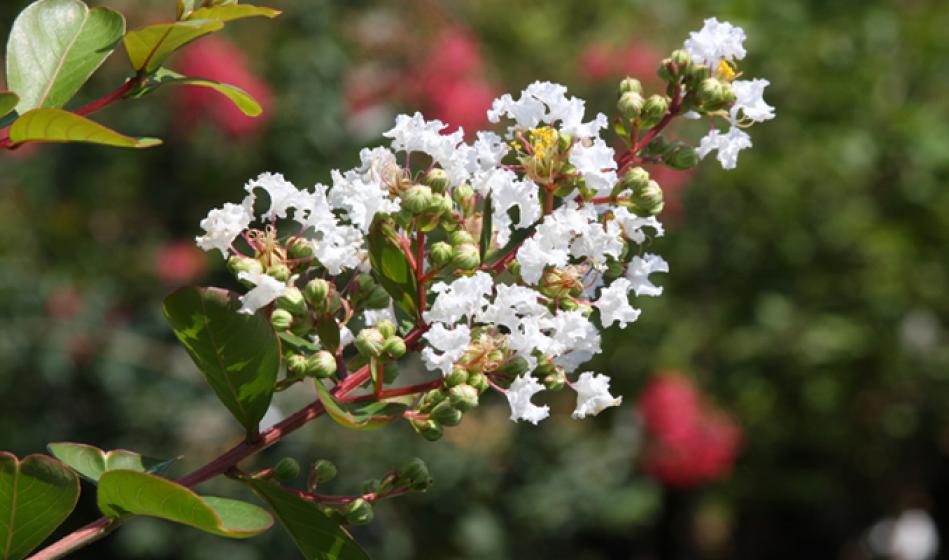 ACOMA CREPE MYRTLE
This spectacular summer tree offers cascading clusters of pure white crinkled flowers. With an exceptionally long bloom period, this tree adds stunning summer color to the landscape and attractive fall foliage. And, with striking cinnamon colored peeling bark, you will have visual interest in the winter.
As a smaller crepe myrtle, Acoma thinks it's a shrub. It's small enough to fit easily into the tiniest city garden or courtyard. With its weeping white flower clusters and lustrous bark, it should be treated as a specimen and planted in raised beds or containers. It is an excellent candidate for huge ceramic pots, where it will grow happily for many years.
Acoma is among the Fauriei hybrids bred for increased resistance to mildew. These were created as hybrids of L. indica and lesser known L. fauriei. The latter is native to southern Japan and contributes its natural resistance to mildew. The first crepe myrtle from the South Pacific arrived in 1759, but widespread cultivation began about thirty years later at the hands of Andre Michaux in Charleston, South Carolina.