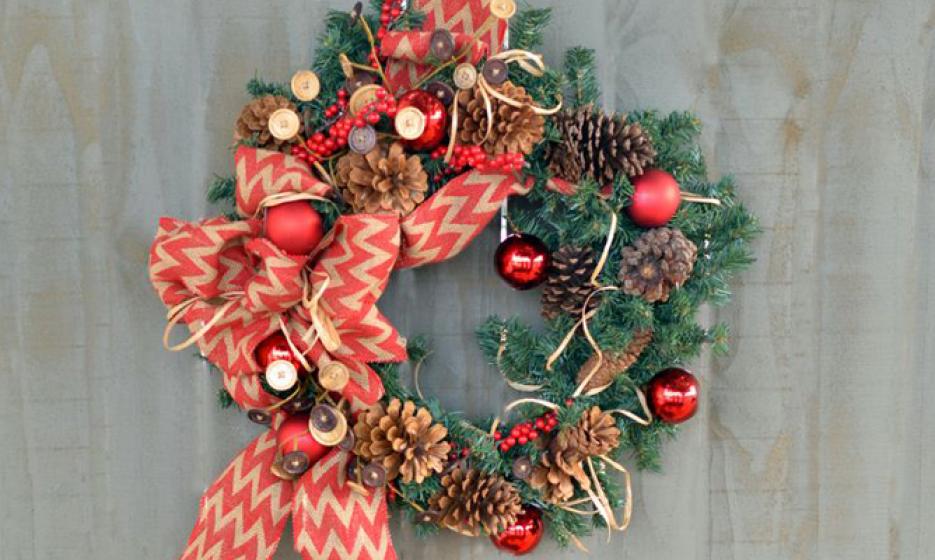 DO-IT-YOURSELF HOLIDAY WREATH
Give your entryway a makeover this season with these Christmas door decorating ideas. Festive and colorful, wreaths are the perfect way to welcome holiday guests into your home. A wreath is a great addition to the inside and outside of your home. You can choose a traditional style or get creative with something more modern. Don't be overwhelmed - wreaths are as simple as picking the form, the picks, the ribbons and the trimmings. You can make an infinite variety of wreaths from real or fresh greenery and just a few supplies. Each year, you can add to your creation or simply take the décor off and create something new. Wreaths are great to do with family and friends and take very little time to make.
To Get Started:
Pick your wreath

Whether you are choosing grapevine, moss, faux greens or a combination of all. The wreath form is the structure for which your décor will sit. Make sure that the wreath is the correct size for your door and that it is sturdy enough so that your door will open and close easily.

Grapevine – this traditional wreath form is natural and less dense. It will give a rustic look and can transition from fall to Christmas easily.

Faux Greens – the quintessential Christmas wreath, this form offers a full green backdrop for all your decoratives. Either tuck in some fresh greens or use as it is. Available in a myriad of sizes this wreath form can be as simple or complex as you would want to make it.

Moss – with a garden, natural feel this form requires very little trimmings to make a stunning statement. The chartreuse green is a fresh color for Christmas décor and pairs great with red.

Pick your trimmings

Choose from a variety of picks, ornaments and sprays to embellish your wreath. Look for items that will match your décor or make a statement on your front door. The sparkly the better! Just be sure to use floral wire to secure your ornaments and embellishments.

Pick your ribbon

Wire ribbon is great because it will form and nice bow and hold its shape. However, floppy ribbon is beautiful too for a more free-form elegant look. Choose ribbon that pairs well with your embellishments.