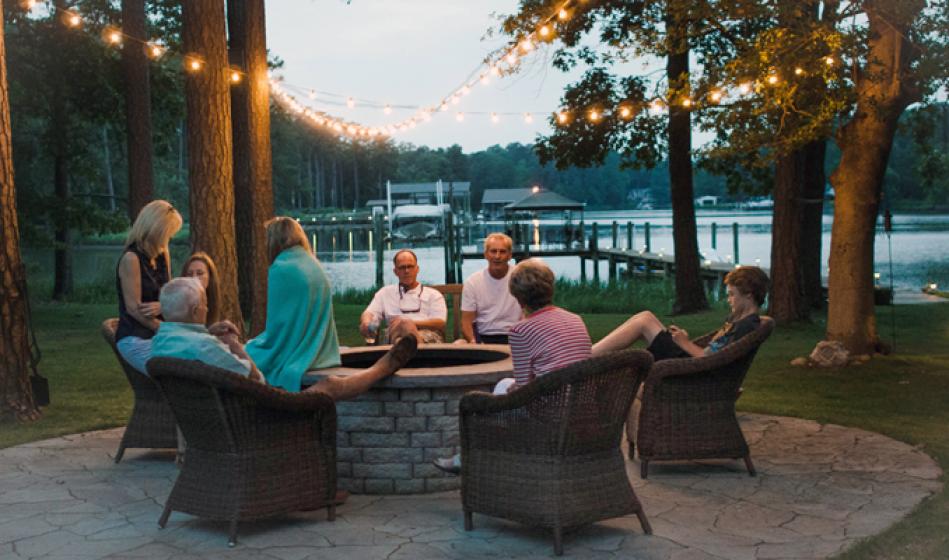 LIGHT UP YOUR LANDSCAPE WITH A FIRE PIT
Whether you're roasting hot dogs in the summer or marshmallows in the winter or simply enjoying a cozy, crackling fire on a cool autumn night, a fire pit makes being outside any time of the year enjoyable. Fire pits are one the hottest items on the market today and adding one to your landscape will provide a natural gathering spot for socializing, entertaining, and just plain relaxing!
Backyard fire pits can easily be integrated into an existing patio, pond, or seating area, and there are countless options when it comes to the size, shape and style. Both free-standing and built-in fire pits are available in a variety of designs to fit the architecture of most any home and garden. Built-in fire pits can be modern or traditional while free-standing pits run the gamut from sleek and modern to rustic.
When it comes to built-in fire pits, you can have one custom built and installed for you by our landscape team, or you can purchase a DIY kit and build it yourself. If opting for a built-in fire pit, you'll be able to choose from an array of outdoor materials including concrete, stone, brick and pavers. And remember, fire pits don't have to be round - they can be square, L-shaped, or most any custom shape you desire, so think outside of the box when designing your fire pit. A portable pit is yet another option and can be moved from one location to another in your yard. Free standing models are an economical way to add a fire pit to an existing or newly designed garden and are available in a variety of styles and finishes. We carry an array of free-standing fire pits and fire bowls... new this season!
Whether you are throwing a backyard party or simply enjoying some peace and quiet at home with family, a fire pit will instantly make your yard the place everyone wants to be! Looking to create a fire pit for your outdoors? If so, join us for a complimentary in-store demonstration featuring "How to Install a Fire Pit" at our Virginia Beach location on Saturday, October 5, at 11:00 a.m. We'll show you how easy it is to install a stone fire pit kit. learn more >>
Free-standing fire pits and fire bowls are sold at all locations, starting at $169. Do-It-Yourself fire pit kits are sold at our Virginia Beach location at 1144 Independence Boulevard. Kits are a special order item starting at $599. We also offer installation services.