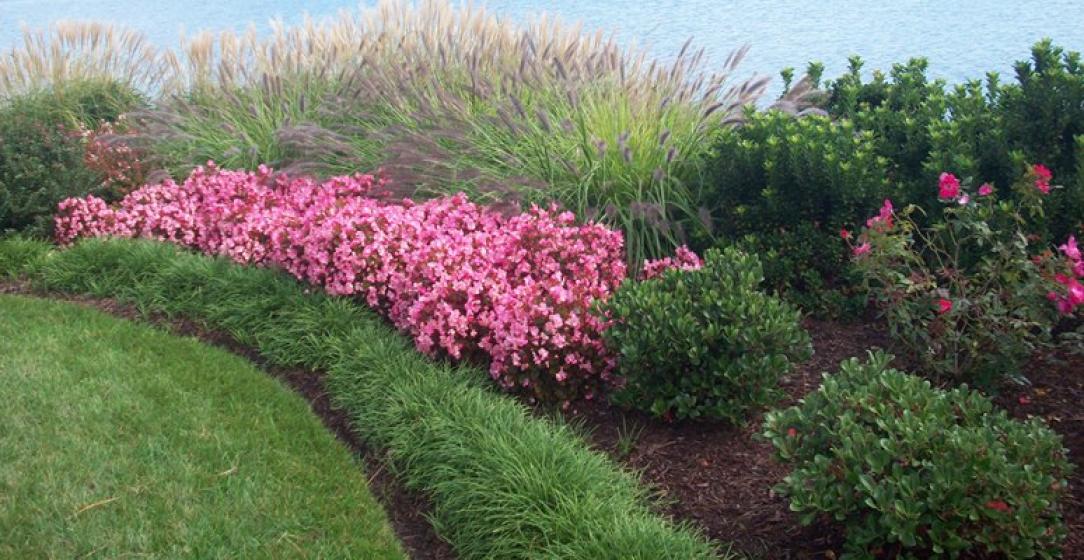 Gardening in Hampton Roads presents special opportunities when it comes to seaside gardening. With all of the water, there are a few considerations that you should take into account when gardening near the water.
Salt – When placing plants, you should consider both salt spray and actual flooding. Salt competes with the plant for moisture and should be washed off periodically. Generally, fine thin leaf plants are more tolerant of salt.
Wind – Gardens that are designed to block the wind perform better. Wind will dehydrate foliage, thus the need for a thick skin to perform better. It is also important to use strong plants that are not fragile and susceptible to break up in storms. Strong trees such as Live Oak, Pine and sturdy deciduous trees tolerate wind better. Grasses are also a great option.
Heat – The heat and humidity can wreck havoc on plants. The ocean breeze can cool the summer sun, but if you block the wind, the heat will increase. Look to summer heat survivors like Crepe Myrtle, Cannas and Rudbeckia.
Here are some of our seaside suggestions:
Shrubs:
Cotoneaster • Forsythia • Viburnum • Lilac Spirea • Althea • Hydrangea • Roses
Vines:
Trumpet Vine • Clematis • Carolina Jasmine • Wisteria • Hydrangea • Roses • Coral Honeysuckle
Trees:
Black Pine • Live Oak • Vitex • Crepe Myrtle • Cedars • Crabapple • Styrax
Evergreens:
Russian Olive • Euonymus Holly • Junipers • Yucca • Wax Myrtle • Mugho Pine • Ligustrum • Palm
Groundcovers:
Hypericum • Candy Tuft • Liriope • Bermuda Grass • St. Augustine • Zoysia