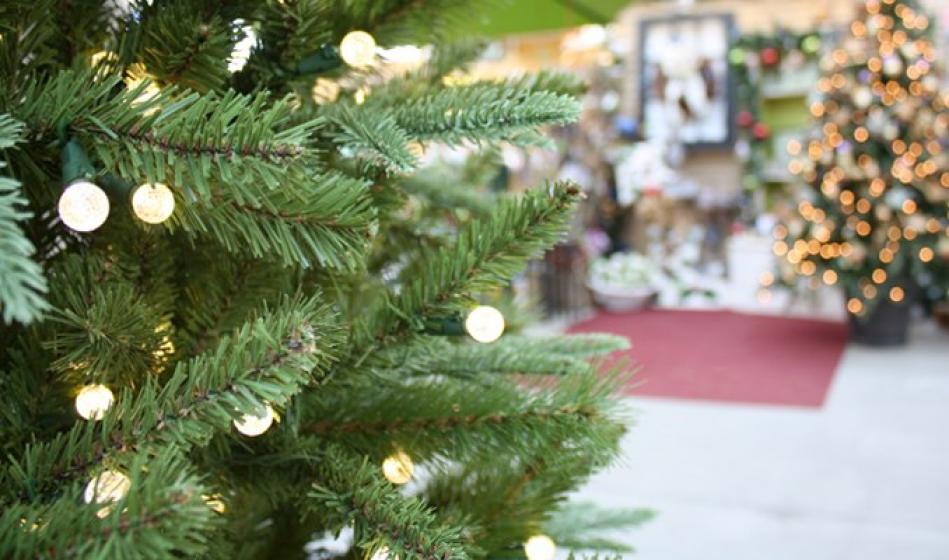 HOW TO SHAPE A PRE-LIT TREE
Beautiful trees start with a great shape. Our design experts have put together these easy steps to help make your tree sparkle and shine this season! Before you get started, select a location for the tree near a power source and find an additional 5amp-3 prong extension cord.
Remove the tree from the box, using caution so as not to cut the wiring when removing straps from the box.

The majority of trees have three parts:
• Bottom section ~ the largest branches and widest portion of the tree
• Middle section
• Top section

Place the tree stand in the selected location and screw bolts into the stand, do not tighten at this time.

Place bottom section of tree into stand; make sure the pole goes all the way to the bottom; tighten bolts once tree is secure and level. Allow the branches to fall and connect the lighting inside the bottom part of the tree.

Shape bottom row of branches-starting with foliage nearest the pole and work your way out to the tips of the branch. Create an alternating V shape with shaping the foliage (see picture below). Once a row is complete move up to the next and shape in the same manner until the bottom section is complete.

Insert the middle section of the tree, connect the lighting and shape in the same manner as you did the bottom section. At this point, it is a good idea to step away from the tree and view your progress, making adjustments as you see fit.

The top section of the tree should be shaped before placing it on the tree, with foliage shaped upwards.

TIP: You may want to wear gloves while shaping to avoid scratches.
Things to look for when purchasing a permanent tree:
Hinged Construction
Natural Looking Foliage
Number of lights and tips on the tree ~ the more tips the more realistic
Wiring of lights ~ is it visible?