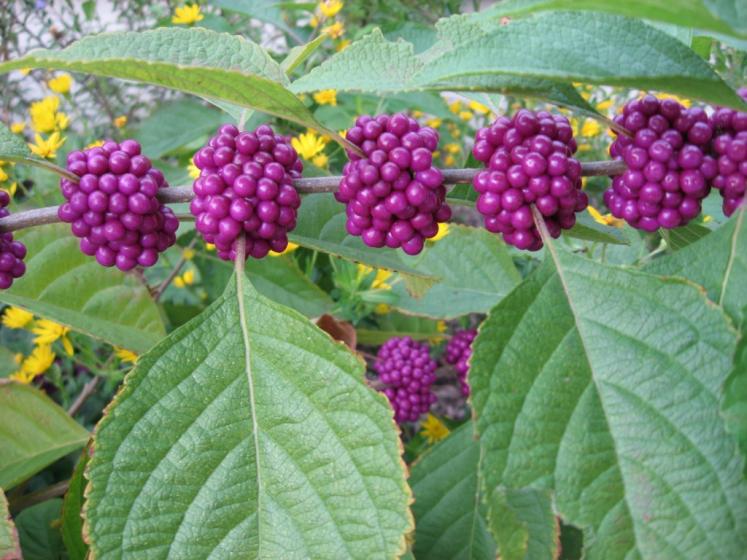 Autumn is my favorite time of the year, especially in the garden. For the most part, annoying bugs go away and plant diseases disappear. And, some plants like roses produce their most stunning blooms in the fall, because they are not stressed by heat and pest problems. For me, fall is the time to enjoy the sights of colorful shrubs and trees. Here are some I like:
One of my favorite trees is Virginia's native dogwood, which features crimson red leaves and berries. A problem-free version of the common dogwood, Cornus florida, is Cornus kousa, or kousa dogwood. Native to China, it resists the fungal leaf diseases that plague native dogwoods on the East Coast. It displays eye-catching fall foliage, and tolerates more sun.
A black gum tree, or Nyssa sylvatica, will stop you in its tracks with its ball of scarlet red leaves in October. Thankfully, it's not a tree that drops gumballs. It's a tough tree that likes most soils and isn't fussy about sun or shade conditions. Pests rarely bother it, and it grows slower than maples but faster than oaks, reaching 60 feet tall and 40 feet wide, which is a nice size for most yards. Best of all, it really needs no pruning and lives a long, long time, giving you years of pleasure for your money.
In the blink of an eye, bright yellow fall foliage cover blankets a ginkgo tree, or Ginkgo biloba. The well-behaved, medium-sized tree has been around since the beginning of time, so it's no wonder it's very disease and insect resistant. A word of caution: Buy the male species, because the female produces messy, smelly fruit.
When it comes to fall's finest shrubs, my first pick is American beautyberry, or Callicarpa. This native species still grows at Monticello where Thomas Jefferson admired its beauty. In late spring, its cascading stem habit is laden with clusters of lavender-pink blooms, followed by tight clusters of bright purple berries that stop you in your tracks when you walk your garden. Once the foliage drops, the berries are still there but not for long if birds frequent your yard.
Virginia sweetspire, or Itea virginica, is a deciduous fall shrub with long-lasting leaves that turn into shades of maroon, yellow and orange. Native sweetspire comes in a Henry Garnet version, which is commonly sold. It's easy to use because it grows only three to five feet tall, and features graceful, arching branches that bear hundreds of small white flowers in spring. The blooms attract all kinds of pollinating insects, too. In summer, its leaves make attractive backdrops for semi-shade perennials.
Lastly, red chokeberry, or Aronia brilliantissima, offers tremendous red fall color. Late spring clusters of white flowers are followed by large, bright red berries in October. Another forgiving plant, chokeberry likes sun to part shade and tolerates all soils, including clay.
If you don't have these or any fall-type shrubs in your yard, now is the perfect time to plant them. Winter's cool weather and frequent rains help new plants establish roots before summer arrives again.
To plant properly any time of the year, dig a hole a foot wider than the circumference of the root ball and the same depth as the root ball. If the plant is coming out of a pot, take your fingers and try to loosen some of the roots, so they will continue to grow outward instead of in a circle the shape of the pot. Set it out in the middle of the hole, and back fill with the soil you just dug out. Water slowly, and apply two to three inches of mulch, making sure that you do not push the mulch up around the stems.
Remember, fall can be the start of your gardening season – not the end of it.
Kathy Van Mullekom gardens in southeastern Virginia Beach; contact her at kvanmullekom@aol.com