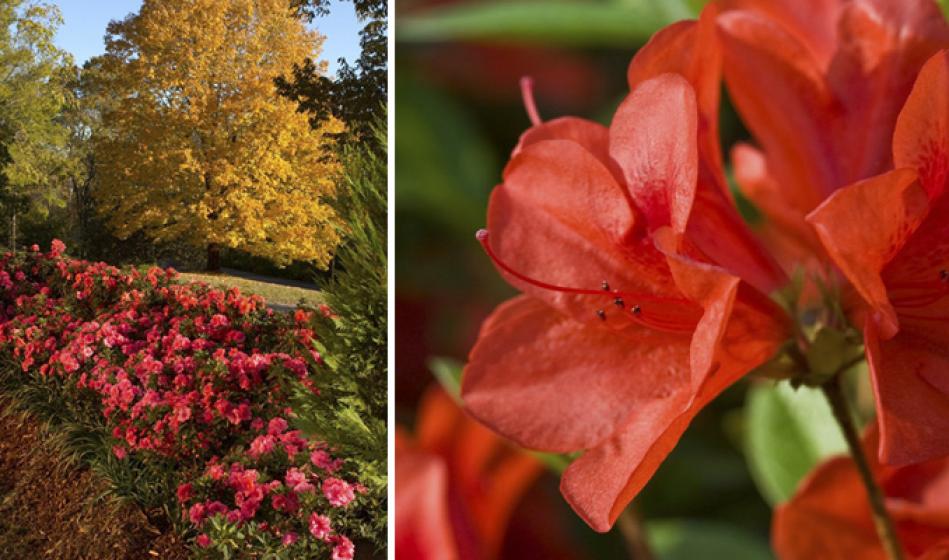 RE-BLOOMING AZALEAS
Who doesn't adore azaleas in the spring? What if we told you that now you can enjoy an explosion of blooming azaleas other times of the year as well? Try our re-blooming varieties that flower in the spring, summer and yes, even fall!
Our re-blooming favorites:
Encore – offers three seasons of blooms and year-round greenery. Blooms from late summer to early winter, as well as in the spring. This evergreen enjoys more sun than traditional azaleas, but offers the same easy care. Encores offer a wide selection of plant sizes and bloom colors from reds, to whites, to pinks and even corals. Perfect as base plants, in container gardens, borders, as a foundation planting or in woodland gardens. Prefers well-drained soil and partial sun.
ReBLOOM - featuring large, double and even triple-petal flowers that appear in spring, then rebloom in summer, and continue blooming up until a hard frost. This compact, disease resistant evergreen boast improved cold hardiness and maintains its evergreen foliage year-round. ReBLOOM comes in a variety of unique colors including pinks, reds, purples, whites and corals. Plant in borders, woodland gardens or in containers. Tolerates some sun, but thrive in partial shade. Prefers moist, well-drained soil that is slightly acidic.
Bloom-a-thon - touted as being 'twice as nice as other azaleas'. This azalea produces flowers in April, that rebloom again in July, continuing through fall until a hard frost. Not even hot summer temperatures can stop this beauty from producing tons of late summer and fall blooms. The evergreen foliage is disease resistant and flowers come in a variety of shades including red, white, lavender and pink. Blooms lasts for 4 to 6 weeks in spring, and 12 to16 weeks in summer and fall. Ideal in borders, foundation plantings or in woodland gardens. Prefers well-drained soil and partial sun.